Camp Westwind 2007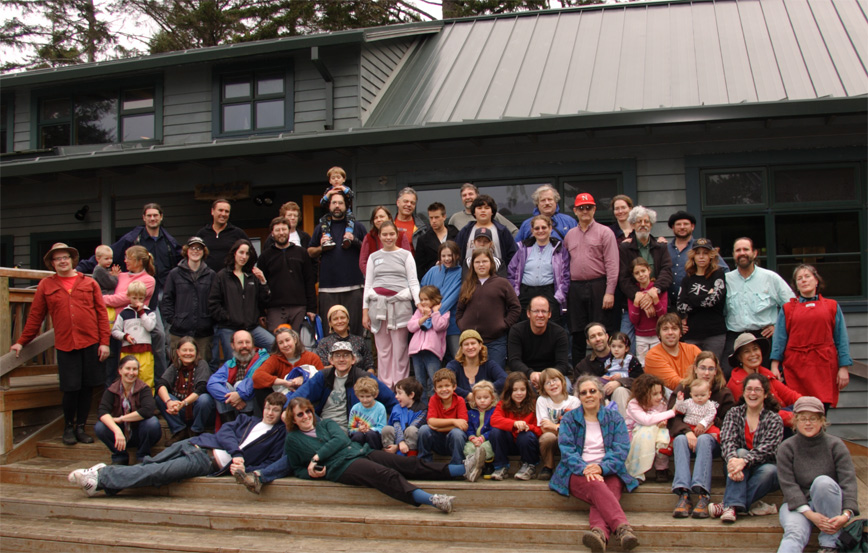 With thunder, lightning, hail, high surf, and clear skies, we pretty much had every type of weather at Westwind 2007. We also ate good food, the talent show was filled with real talent, and so much fun. If you'd like to add something to this page--photo, comment, poem, send email to Johanna and she'll add it.
The most requested recipe: Apple cheddar scones:
And perhaps my favorite image from Westwind:

3 cups flour
1 tbs sugar
1 tbs baking powder
1 tsp salt

5 oz sharp cheddar cheese, grated

2 cups heavy cream
1 cup grated apple, you want a dry baking apple, if it's extra juicy, squeeze out some of the juice.

Preheat oven to 425.

Mix together the flour, sugar, baking powder, salt in a bowl. Stir in the cheese. In a different bowl combine the cream and apple. Then stir into the flour mixture. Stir and knead together until it's all most. Don't overwork though. Drop equal sized blobs on a cookie sheet, press to flatten and smooth, so they're about 3/4 of an inch thick. Bake until golden brown and done. About 15 minutes for good sized ones. Try not to eat them all at once (good luck with that, by the way).
Young Love

Ode to Westwind

Twas the night before Westwind,
and all through the shack
the Reedies were wondering,
" What should we pack?
The weather report
says high surf, wind and rain,
so bring twenty changes
of clothes - what a pain!
Bring enough books and games
to fill the whole place,
and let's bring some sand toys
and trucks, just in case!"

Sunset


It rained all day Friday
and into the night
there was thunder and lightning
and rain - what a fright!
The next morning the beach
was covered with foam
so the Reedies went out
to chase waves and roam.
One wave caught Rosie
and soaked through her socks,
and Claire put her baby
into a big box,

Cooking Empanadas

and we walked on the beach,
and the plane kite flew high,
and then we came back
to eat shepherd's pie.
And then it was time
for the big talent show,
so I wrote this poem
in five minutes or so.

Eating Empanadas

And so happy Westwinnd
to friends far and near;
enjoy the hike out
and come back next year!

--Joanne Hossack '82
Other photo links:
Photos by Ben Salzberg '94

Photos by Laura Miller '92

Camp Westwind's web site is pretty cool.
View photos from 2006, by Mark McLean '70
Back to main Westwind page.
Pictures on this page by William Aegerter '85, Guujse Funke, and Johanna Colgrove '92