Reed Switchboard Code of Conduct
Reed College Switchboard is meant to build and strengthen the Reed Community. Your asks and offers should be civil, kind, and respectful. For the purpose of Switchboard, we define the Reed community as alumni, faculty, students, and staff.
If the same post is flagged by the switchboard community more than once as being inappropriate, your account will be temporarily deactivated until you can connect with an Alumni Programs staff member to discuss why your content is being flagged.

 

Reed reserves the right to remove posts and limit access for activity that may be unsafe or unlawful.

Content that is published repeatedly will be removed. 

Please limit posts to community-oriented asks and offers. Purely promotional posts will be removed.

Third party posts are not permitted without prior approval by the Alumni Programs office. For approval, please email Alumni Programs at

alumni@reed.edu

with your proposed post. 
Reed Switchboard: A Guide
1. Get Started on Switchboard: Creating an Account
3. Posting an "ask" or "offer"
4. Commenting on Posts and Logging Successes
5. Finding what you're looking for: filters, searches, and alerts
1. Get Started on Switchboard: Creating an Account
Signing up for Switchboard is easy! Go to reedswitchboard.com and choose "Sign up." You can connect your Facebook, Twitter, or Google Account to Reed Switchboard, or create an acccount with Switchboard.
To create a Switchboard account, just enter your first name, last name, email address, password, and Reed Affiliation (if you have multiple affiliations, choose the one that best describes you.) As far as the answer to the question at the bottom, "What Concrete Bird has been fought over since 1913?", make sure you enter the bird's full name: D**** O**. (If you don't know the name for whatever reason, such as being a parent or new student, just email us at alumni@reed.edu, and we will give you the answer.)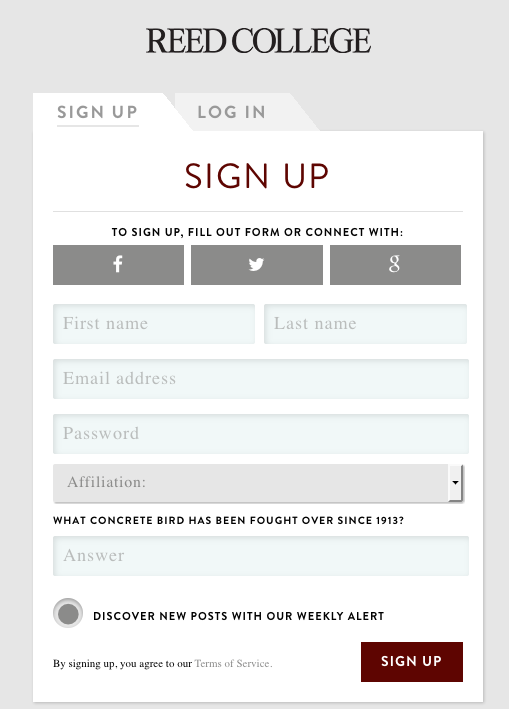 If you have trouble signing up, please email alumni@reed.edu.
2. Understanding the Homepage
The following image helps explain all the options that you have at the homescreen: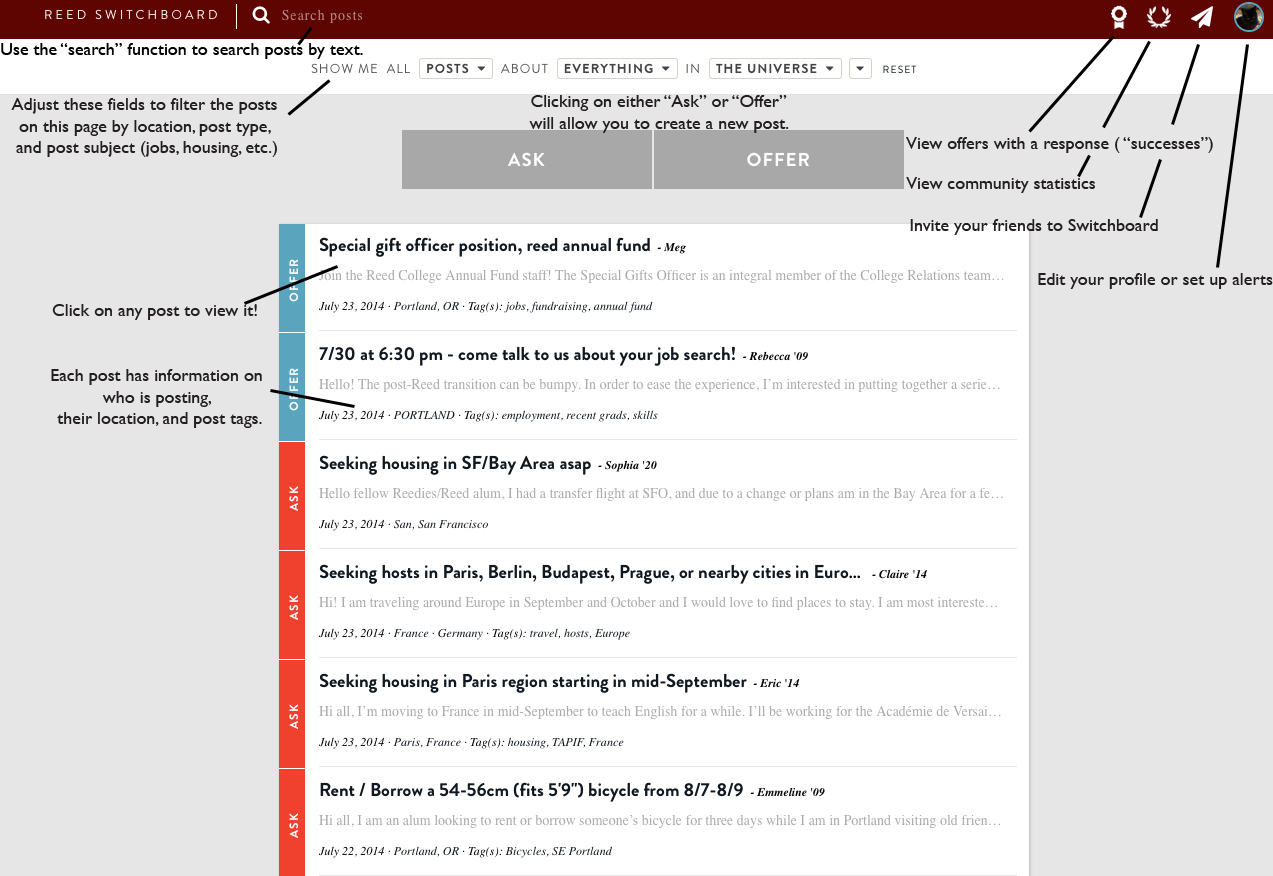 3. Posting an "ask" or "offer"
To post to Switchboard, choose "Ask or "Offer" from the homepage. For something like housing, the difference is fairly clear cut: if you're looking for housing, it's an "Ask", if you're offering housing (even if you are charging for it), it's an "Offer." Often, particularly when it comes to jobs, your posts will fall somewhere in between an ask and an offer. Don't sweat too much over the distinction: choose whatever feels right to you. Regardless of which you choose, the drop-down menu will be the same: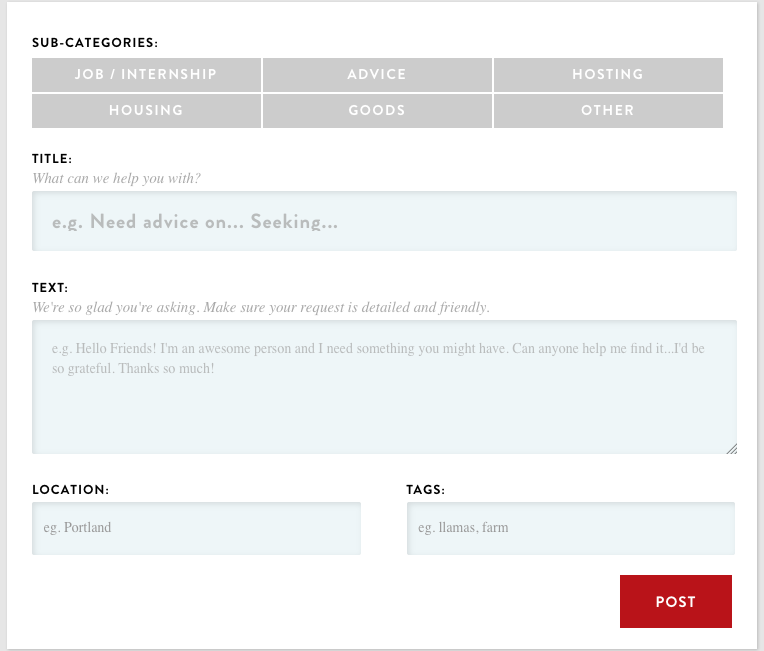 The rest is fairly self-explanatory: give your post a title, add the text, location(s), and any relevant tags. Use a location and tags that will be descriptive and allow others to easily find your post with a search. You can enter multiple locations: if you were looking for a job, in a place like Oakland, CA, you could enter both "Oakland, CA", and "San Francisco, CA". If you want to find what other tags and locations others are using, try adjusting the filters on the homepage.
4. Commenting on Posts and Logging Successes
On an individual post, below the text, you have a number of ways to interact with it.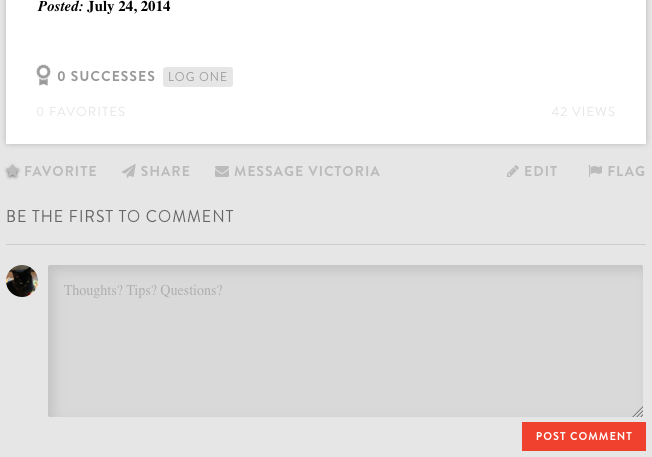 You can:
Leave a Comment
Log a "Success": If you've had a successful interaction with this post (i.e.: Billy Bob '05 posted asking for job advice, you met with Billy Bob at Starbucks and had a great conversation), you can log a success to let everyone know! This helps because it makes clear which posts have been successfully resolved and which are still open.
Favorite: Like a post to let the poster know that their Ask or Offer is appreciated.
Direct Message: Message the poster instead of commenting publicly. Although you are encouraged on Switchboard to share your conversations with the community, sometimes a direct message is more appropriate. You can set up your direct messages to forward to your mailbox.
Flag: If content strikes you as inappropriate, you can request it be removed. See Reed Switchboard's Community Standards for what constitutes an unacceptable post. If a post strikes you as especially alarming, please contact alumni@reed.edu or call 503-777-7589. 
5. Finding What You're Looking For: Filters, Searches, and Alerts
Reed Switchboard may seem very simple, but it has a number of features designed to help make it easier for you to find what you're looking for.
Switchboard automatically provides email updates on comments, mentions, successes, and more. You can change your email alert settings by clicking on your profile in the top right corner and selecting settings.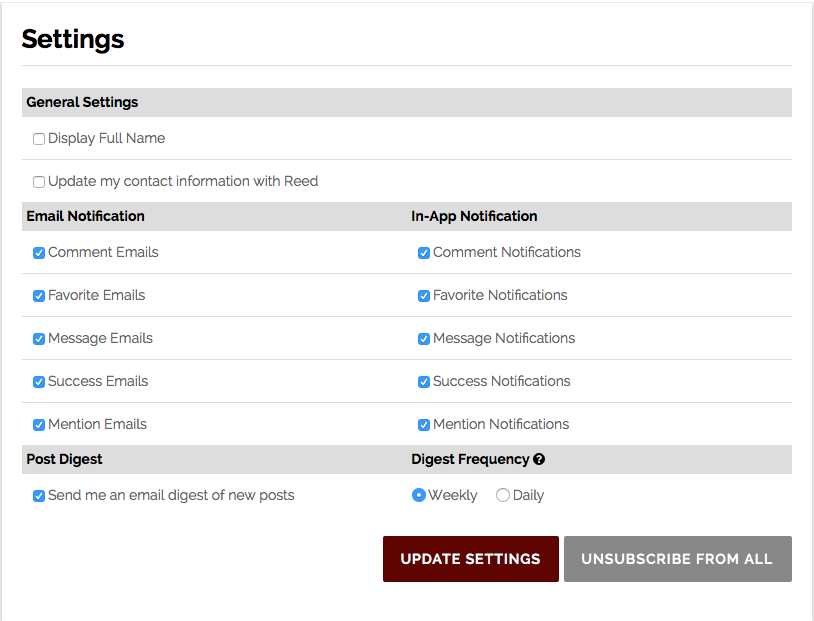 From the Settings page, you can select daily or weekly email subscriptions, choose which notifications provide email alerts, and update your contact information.
Filters
As mentioned above, setting a filter allows you to easily sort your content. Simply adjust any of the four boxes at the top of the homepage. You can filter by location, ask/offer, and post type, as well as by tags (the right-most drop down box.) To go back to the standard page, simply click the "reset" button.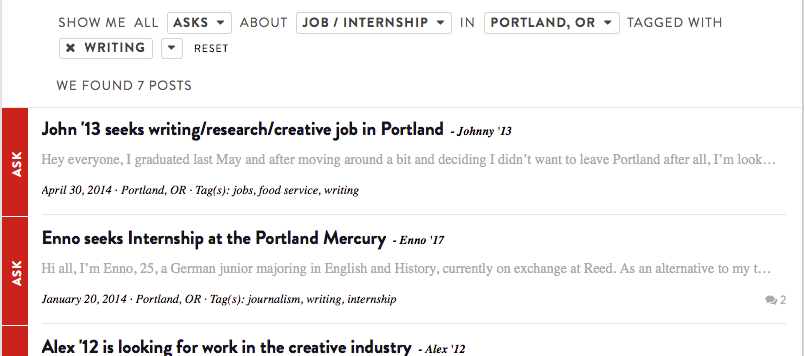 Searches
You can do a text-based search for posts using the spyglass icon at the top of the page. This will search the text of posts instead of the tags, so if you're looking for posts about dog-sitting, searching "dog" wouldn't be a bad idea.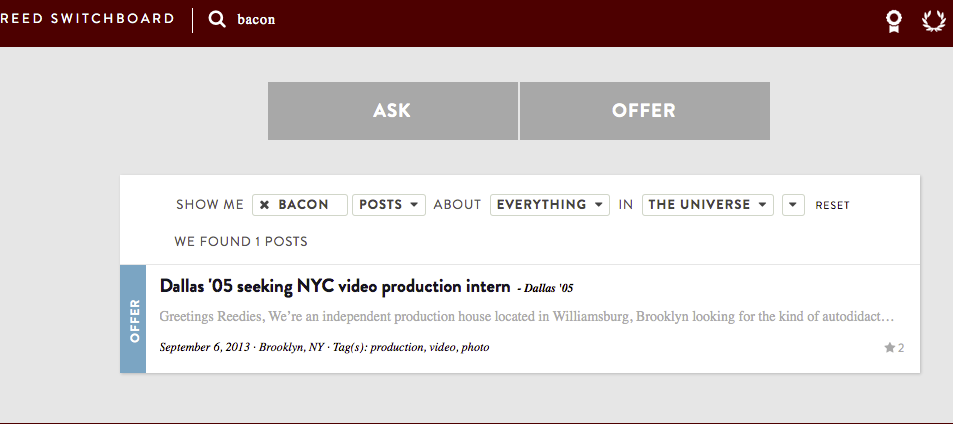 Thanks for using Switchboard and helping out the Reed community!