Welcome, New Alumni
Congratulations on finishing your journey at Reed! This can be a bittersweet time for many, but the Alumni Relations and Volunteer Engagement team wants to make it as fun and easy as possible. Please utilize the information and resources on this FAQ page as a guide to the student-to-alumni transition process.
P.S. If you're graduating, remember to review the graduation checklist!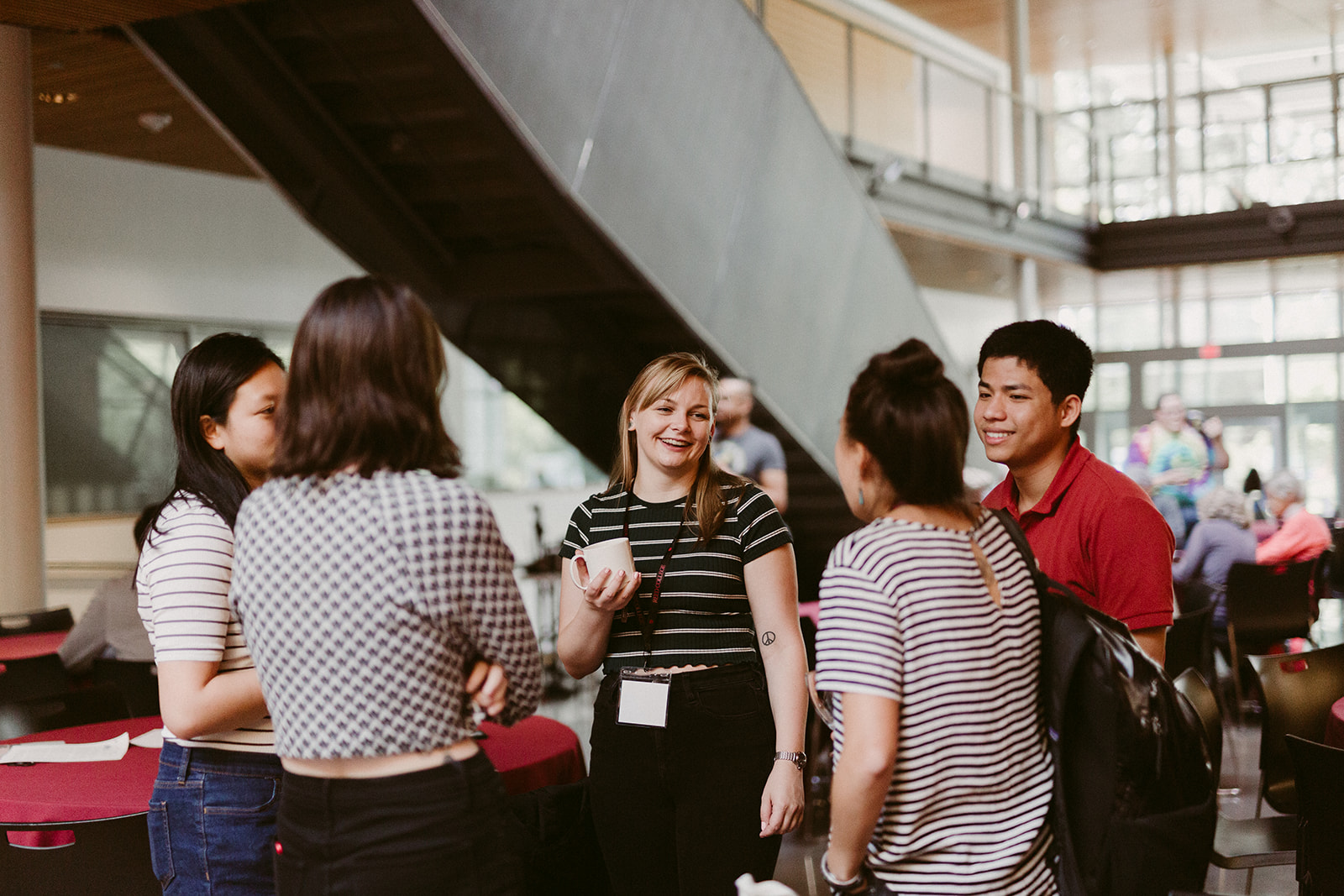 There are a lot of different aspects involved in the student-to-alumni-transition. To make the process clearer, we've separated frequently asked questions (FAQ) into the four categories listed below.
If you can't find the answer to your question, email us at alumni@reed.edu. We would love to hear from you and will respond within one to two business days.
Graduation/Leaving Reed

What do I need to do before I graduate?
Please review the college's senior checklist.  We also recommend you review the commencement website to make sure that you've covered everything.
What happens to my Reed accounts after I leave?
You retain access to your IRIS account, although it looks different as an alum than as a student. You have access to the Alumni Directory, ski cabin reservations, and more through IRIS. You can also use your IRIS account to access JSTOR and use on-campus computers. Your login information for Kerberos remains the same. Contact alumni@reed.edu for an account reset if you forget your login information.
You will lose access to all other Reed accounts when your account transitions from student status to alumni status. Your Reed email and Google Drive files will be permanently deleted. Make sure that you transfer documents, emails, and non-Reed account login credentials to a personal account before you leave. Instructions for closing your Reed account are available here.
What is Reed Alumni Connect (RAC)?
The first time you get a call from a Reedie after leaving Reed, it won't be for a donation. Every summer, alumni volunteers call or email every single new alum to offer their help. Help with what, you may ask? Pretty much anything—RAC volunteers have helped new alumni find housing, jobs, and plan their next steps for post-Reed life.
If you fear human contact in all its forms or want to opt out of RAC for any reason, email alumni@reed.edu.
What does being an alum really mean?
Put simply, being an alum means you are not currently enrolled as an undergraduate student, completed at least seven units of coursework at Reed, and were not expelled from the college or removed from the alumni community. It also affords you some special benefits detailed in the "Alumni Status & Benefits" section of the FAQ.
Alumni Status & Benefits
Am I automatically a member of the alumni
associatio
n?
If you are no longer a student at Reed, completed at least seven units in a degree-seeking program at Reed, and were not expelled from the college or removed from the Alumni Association, then congratulations! You are a Reed alum and automatically a member of the college's alumni association.

I didn't graduate. Am I still considered an alum?
Most likely, the answer is yes. Alumni status is given to former Reed students who completed seven units in a degree-seeking program, and this is usually accomplished within a student's first year at Reed. 
Occasionally, the Alumni Board confers honorary alumni status upon community members who do not meet the seven unit criterion (usually a former Reed faculty or staff member). This is done to express appreciation for work an individual has done on behalf of the college.
What benefits does alumni status entail?
If you are a member of the alumni association, you have access to the following benefits. 
Career resources

Library access

Sports Center Access (

due to building damage, access is limited to students, staff, and faculty

)

Insurance discounts

Alumni directory access

JSTOR access

Local hotel discounts

Invitation to alumni events

Ski cabin access (

limited

)

Use of on-campus computers 
Please note the benefits listed above are all privileges, and may be revoked at the discretion of Alumni Relations and Community Safety. See the question "Can alumni status be revoked?"
What campus facilities can I use, and how?
Normally, the Sports Center is open to alumni, but you need an alumni card (available at the Alumni Office in Prexy) and student use takes priority. During peak hours (Monday-Friday, 4–7 p.m.) during the academic year, alumni are not allowed in facilities, and they must always defer to student needs first when using the sports center. See this page for more information.
You may check out books from the Reed library with an alumni card. Summit and Inter-Library Loan are not available to alumni.
You can sign into campus computers with your IRIS account, but printing is not available to alumni. You can also use your IRIS account to access JSTOR.
You can reserve a spot at the ski cabin the same way you did as a student, through IRIS, though student access does take priority.
How do I order a transcript?
Alumni Relations does not have access to any academic records. You can find instructions for ordering a transcript on the Registrar's Office website. Transcripts cost $5 per copy.
How can I get my unofficial transcript?
Reed does not produce unofficial transcripts for alumni. If you need a letter verifying your enrollment and/or GPA for insurance or other purposes, information for requesting this letter can be found here.
How do I audit a class?
Alumni are permitted to audit most classes at Reed with instructor approval and the payment of a $100 fee. Once you have the professor's approval, you can pick up an auditing form from the Admission Office. See the college's policy on auditing courses here.
C
an alumni status be revoked?
As mentioned above, any person who was expelled from Reed is not considered an alum of the college.
If an alum has behaved in a way that makes another community member feel unsafe, they may be subject to removal from the community or exclusion from campus. This is decided by the Executive Director of Advancement in consultation with the Director of Community Safety.
If you have had a negative experience with a member of the alumni community that you believe merits follow-up action, please consider informing the Alumni Relations team at alumni@reed.edu.
The Alumni Community
What are alumni events?
Alumni events are hosted by Reed alumni or the Alumni Relations and Volunteer Engagement team, specifically for a Reed alumni audience. That's not to say you can't attend other events at Reed, but that these events are specifically for you. Events include happy hours, apple-picking excursions, potluck dinners, and more. For new grads in particular, these events can be great networking opportunities.
You'll also get emails about chapter events in your area. "Your area" means wherever we think you live, so make sure you update your address in IRIS if you move!
Are there events specifically for new alumni?
Yes! Many chapters put on events where new alumni eat and/or drink for free in the late summer. Keep your eye on the chapter events calendar for more information, and make sure you have your current address and email address in IRIS so that you get our event emails.
What are the most notable alumni events?
There are two major alumni events at Reed you won't want to miss. Reunions, which happens in June, sees over a thousand alumni from all over the country return to campus. The Forum for Advancing Reed, in the fall, gives alumni an opportunity to learn more about the inner workings of Reed and make an impact on campus by providing feedback or joining volunteer groups.
What student events am I able to attend?
Alumni are welcome to attend Renn Fayre, but must pay for a pass. There are often ways to volunteer and earn a free pass depending on the Renn Fayre Czars' needs. These volunteer positions, if available, will be advertised to the alumni community by the Czars themselves or through our office if asked. 
Individual department events may vary in their openness to alumni. Contact the event organizers if you are curious about whether or not an event is open to alumni.
What is the alumni travel program?
Alumni Relations plans a number of travel experiences available to Reed alumni every year. Most of these trips are planned in-house, though some are run through outside agencies—if this is the case, it will be noted in the trip description. Details on trips currently available are here.
How can I connect with Reedies who can help me out?
New alumni (those within one year of leaving Reed) have full access to all services provided by the Center for Life Beyond Reed (CLBR) as though they were still students in addition to the career resources provided by the alumni office.
If you are more than one year out from Reed, we still have resources for you! CLBR is available for graduate school, medical school, and law school advising no matter your class year or graduation status. You also have access to the Alumni Directory, which you can use to connect with alumni in your city, profession, or academic area of study. Reed Switchboard is an invaluable resource for alumni as well. Reedies are usually thrilled to help out new alumni, so don't hesitate to contact Alumni Relations if there is a specific alum you want to get in touch with. We'll be glad to help you make the connection.
There are also two volunteer initiatives aimed at helping alumni find or settle into their careers. If you're starting out on your search and want to chat with people who can help narrow down your options or illuminate new opportunities, check out the Pathfinders. If you want more focused resume help or an introduction to existing networks in specific industries you've already identified, our Career Coaches may be able to help.
How can I get involved in the alumni community?
There are many ways to help out and get involved! 
Those are just a few of the volunteer opportunities Alumni Relations offers. We also have one-off volunteer initiatives like Orientation Move-In and Reed Alumni Connect, as well as the possibility of volunteering on Alumni Board committees as an ad-hoc member. If you're not sure of the best fit for your interests and schedule, please email us at alumni@reed.edu. We're happy to chat with you about what Alumni Relations has to offer!
What are the functions of the Alumni Board and alumni chapters?
The Alumni Board is distinct from the Board of Trustees. The Alumni Board is a volunteer board that advises College Relations on policy and serves as the leadership of the alumni volunteer community. More information on the board is available here.
Chapters are groups of alumni in eleven cities throughout the United States (and Europe!) that work to support the Reed community in the region. They put on social events and help alumni make local connections. You can see a list of all the chapters and get in touch here.
Staying in Touch

How do I update my contact information?
You can update your contact information (and set privacy controls for who sees it) in IRIS. If you cannot log into IRIS, you can update your information using the quick update form. If that also is not an option, you can email your updated information to alumni@reed.edu and we can take care of it for you. 
When you depart from Reed, whatever contact information you provided as a student will automatically be moved into the alumni database. This includes your non-Reed email address, mailing address, and phone number. If you haven't updated your contact information recently, now is the time! If you get Reed emails about events in an area you no longer live in, haven't seen Reed in your inbox for a while, or haven't received Reed Magazine in the mail, those are good indicators you may need to update your contact information.
How do I receive news about what is going on at the college?
Once you've left Reed, you'll begin to receive various communications automatically, including Reed Magazine and various emails. You can unsubscribe from these communications at any time. If you believe you should be receiving Reed Magazine or a certain email and you are not, please ensure your contact information is current in IRIS and then contact alumni@reed.edu. We will do our best to fix the problem.
How do I make sure I get the first copy of Reed Magazine?
All new alumni receive a copy of Reed Magazine after they depart from Reed, along with a special "Welcome to the alumni community" package. It is sent to whatever address we have on file for you—so make sure that you've updated this address in IRIS.
Who will contact me from Reed and why?
Any contact information in your IRIS account that is not specifically unchecked as viewable in the "Alumni Directory Prefs" section will be visible to all alumni. You can control who can see your contact information using your IRIS privacy settings.
You will also receive fairly frequent communications from the college upon becoming an alum. Most of this contact is not related to fundraising, but about keeping you up to date on upcoming alumni events and opportunities as well as important updates from campus. We do our best to ensure that this contact provides helpful information rather than spamming you, but if you want to be removed from any email lists contact our office at alumni@reed.edu or select the "unsubscribe" button on the bottom of our emails. Below are the types of communications you will receive: 
Alumni Relations – Stay in the loop with what's going on in the alumni community. Subscribing to this list will also ensure you get invited to Alumni Relations signature events like FAR, the holiday party, and Reed on the Road.

Annual Fund – Advancement will contact you periodically asking you to make a gift to Reed.

Chapter Events – Depending on what city you have your address listed in, you may receive emails about regional events.

TTT – Named for Thirsty Third Thursday, these emails inform you about local happy hour-style networking and social meetups. If you would like to opt-out of receiving communications referencing alcohol, email us at alumni@reed.edu.

ReediENews – ReediEnews provides you with updates on what the Reed community is up to—both on campus and in the world at large.

Reunions – In the spring, you will receive a few invitations and reminders for Reunions and Alumni College.

Travel Programs– Alumni Relations maintains a travel program for our alumni, and you'll receive periodic emails updating you on the latest opportunities.
You may also receive occasional communications for specific purposes—for example, if you are a Physics major, you may be contacted by the Physics department to particpate in a survey of physics alumni.
How do I manage my communication preferences?
You can opt in or out of any alumni communications (email, print, and phone) by sending a request to alumni@reed.edu. We are also able to remove you from any of the specific kinds of communications listed above while keeping you in the other emails you'd like to see.
To preserve the privacy of your email address from the Alumni Directory, you can set your email address to not be publicly visible on IRIS. Instead, you can display an alumni email forwarding address or no email address at all. IRIS has a number of ways to alter what subgroups of people can see your information—feel free to peruse and customize to your preference.
Alumni Relations staff will never release your contact information without your consent,* regardless of whether or not the requesting party is affiliated with Reed. However, if you wish to not be contacted by Reed community members under any circumstance, please contact alumni@reed.edu for information on being noted as "confidential."  Reedies who are "confidential" may still be contacted by the college, but their information will never be shared outside of the college staff.
*Please note that having your contact information public in the Alumni Directory equates to consenting to those with access to the directory (i.e., Reed students, staff/faculty, and alumni) being able to contact you. You can change these settings in IRIS.